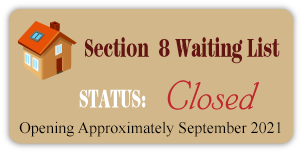 Section 8
Section 8 Housing Choice Voucher Program
St. George Housing Authority (SGHA) currently administers 244 vouchers which allow participants to locate a unit of their choice within the Washington County area.
Tenants pay approximately 30% of their adjusted gross income toward rent and utilities and SGHA pays the remainder.
Applicants must successfully pass a criminal background check and have favorable landlord references. To be eligible, applicants must not have a history of drug related, violent or sexual related offenses.
Current wait time is undetermined. The waiting list is generally closed and when open we will post notices in the office and with local media outlets.
Section 8 Family Self Sufficiency Program
Current Section 8 participants interested in working toward self-sufficiency have the opportunity to earn monthly monetary credits based on their portion of the rent. Credits are deposited into an interest bearing savings account which can be disbursed to the participant upon successful completion of the Family Self-Sufficiency five-year contract.